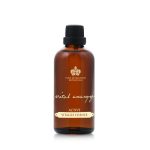 Active Vitalize Essence – 100 ml
Description
ACTIVE VITALIZE ESSENCE
A must-have solution for treating body aches, paralysis, hand and neck problems. Active Vitalize Essence helps unblock clogged body meridians, promote blood circulation and boost metabolism. It also helps relieve muscle discomforts, aches and pains, treat insomnia, aid sleep and promote a sense of calm. The continuous application can help reduce stress, activate brain cells, improve memory, treat migraine and reduce waist, neck and shoulders problems.
Active Ingredients:
• Juniperus Communis
• Pinus Sylvestris
• Rosmarinus Officinalis
• Orange Essential Oil
Direction of Usage:
Apply to any part of body. Use with Wellbeing Detox Scrub for better results.